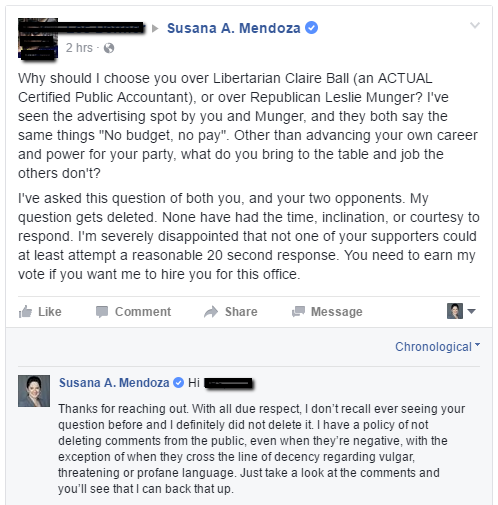 SUSANA MENDOZA — Thanks for reaching out. With all due respect, I don't recall ever seeing your question before and I definitely did not delete it. I have a policy of not deleting comments from the public, even when they're negative, with the exception of when they cross the line of decency regarding vulgar, threatening or profane language. Just take a look at the comments and you'll see that I can back that up.
Regarding your question of what do I bring to the table that the other candidates don't, I'd say that I'm a tested and proven executive manager, who is known for my bipartisan approach to getting things done. I've been a strong fiscal watchdog with a history of standing up to leaders in my own party, regardless of the story my opponent would like to sell to the public. I also have a record of working with and collaborating with folks with diverging idea sets to move the ball forward, because that's an important aspect of being able to govern.
Let me share with you what I've been able to do for Chicagoans as their City Clerk in only 5 years. I'm very proud of this success and it speaks to the executive management experience I'm referring to above.
When I ran for Chicago City Clerk in 2011, the Civic Federation called for merging the Office of the City Clerk with the Mayor's Office. They argued that the City Clerk could do nothing that the Mayor's Office was not already capable of doing. Five years later the Civic Federation is no longer calling for the merger, and in fact asked me to speak at their Annual Luncheon in 2015. Chicagoans have seen how, in just four years, I dramatically and successfully overhauled the Office of the City Clerk of Chicago to better serve them. Our 21st Century reboot of a City Sticker Program dating back to 1908, was lauded by both customers and national experts on innovation in government, and earned us the "Bright Idea Award" from Harvard University. Our Office is now seen as a model in government efficiency and is recognized for increasing access and transparency to City Council and City government. Unlike most government offices, I have led the charge of doing more with less. That means, streamlining systems, cutting overtime, reducing headcount, rooting out and eliminating waste and fraud, and voluntarily coming in under budget year after year. I feel a strong responsibility to protect every tax dollar. As such, I have saved Chicagoans millions of dollars, all the while improving customer service. My successful execution and implementation of the Year Round Sales Program has not only dramatically improved the experience for Chicago motorists, but has generated nearly $50 million dollars in new, sustainable revenue for the City without asking taxpayers to pay more.
Our independence in the Office of the City Clerk also allows me to serve as an advocate separate from the Mayor's Office; a voice that residents value. I very publicly challenged the Mayor when he tried to dramatically increase the cost of City Stickers, and I didn't back down, because it was the right thing to do for taxpayers. We have passed landmark legislation to protect animals and new laws that protect consumers. While other areas of City government are forced to raise fees for services, the efficiencies created in our Office have allowed the City Clerk's office to actually lower transaction fees associated with the City Sticker Program, essentially keeping money in taxpayers' pockets. I proved that I could turn a long-criticized office into one that is valued by residents and currently viewed as a model in government efficiency. I know I can bring the same type of forward thinking and proven executive management success to the Comptroller's Office and make it work well for taxpayers.
I am committed to being an independent, truth-telling fiscal watchdog who will prioritize both the fiscal and moral health of the State. I will take back control of the State's checkbook, which is currently being controlled not by the actual Comptroller, but by the Governor. The outrageous sums of money ($5 million +) which Leslie Munger has accepted from 2 billionaire donors, close friends of the Governor, and one of whom is one of Donald Trump's largest contributors, should settle any doubt as to whether or not she could claim even a shred of independence from the man who appointed her, and also explains why she has yet to denounce Donald Trump.
Lastly, you're not going to hear me say a single bad thing about Libertarian Claire Ball. I've met her and she's smart and a lovely human being. I just believe that this race will come down to a choice between an experienced and dedicated public servant with a proven track record of being able to successfully manage an office of similar scope and who has the political know-how and relationships on both sides of the aisle to be able to get things done for taxpayers (that's me) OR a wholly owned subsidiary of Rauner, Inc and his billionaire buddies, who will, rather than serve as a checks and balance to this governor and his morally corrupt and fiscally unsound policies, will continue to "check" with him prior to issuing checks.
I'm human, which by definition makes me imperfect. But I can assure you that I'm sincere about my dedication to public service and helping people, and nobody will ever be able to match or exceed my work ethic. I hope you will consider voting for me, and I appreciate you giving me the opportunity to try to earn your vote.
---
Visit my biography page to learn more about me.