— Illinois Review | Illinois Review Staff —
Comptroller Leslie Geissler Munger's campaign called on Chicago City Clerk Susana Mendoza to pass on one of her two public pensions to make up for ten years of simultaneously taking two government paychecks.
During a Sun-Times Editorial Board meeting Thursday, Mendoza defended herself against Munger's charges, showing a 2002 memo in which Mendoza specified to the City that her pay be "docked" for the dates the Illinois House met.
Munger campaign manager Phil Rodriguez's accusations about double-dipping were fierce against Mendoza.
"Susana Mendoza voted for the unbalanced budgets, tax increases and pension holidays that put Illinois in fiscal crisis," Rodriguez said. "At the same time she picked up two paychecks and sweetened her two pensions. It embodies all the problems that have led us to this place."
Rodriguez said Mendoza started working for the City of Chicago in 1998 as a Project Coordinator, in 2000, she won a Party Primary for State Representative and received a 33 percent raise for her city job a month later. She then served ten years in the General Assembly, all the while remaining on the city and state payrolls.
All that's true, Mendoza said Thursday, except the Munger campaign omitted that Mendoza specified to the city that she not be paid for the days she was in Springfield.
Mendoza's campaign tweeted these comments during the Sun-Times interview Thursday: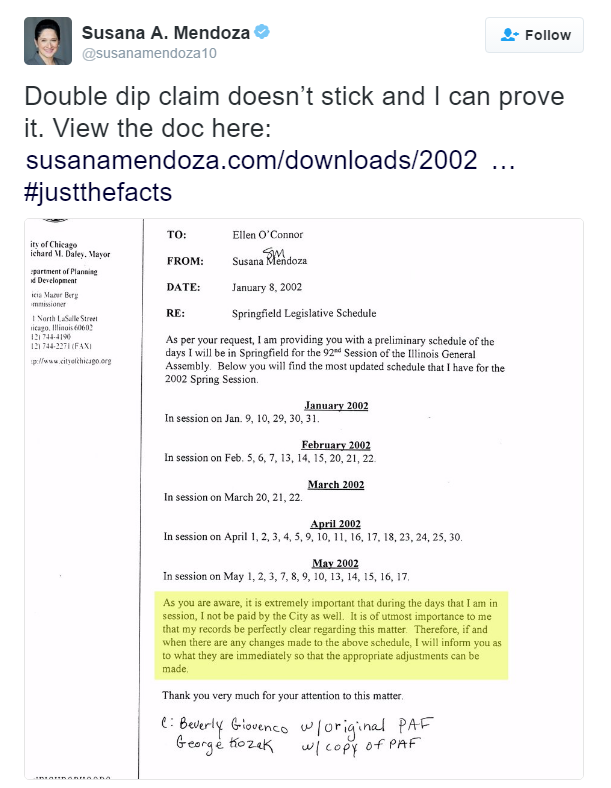 View and download documents that prove I was not "double dipping" – never getting paid twice on the same day.
---
View the article: Eaton, F. (2016, September 15). Comptroller's Double-dipping Charges on Dem Challenger Falls Flat. Illinois Review. Retrieved from www.illinoisreview.typepad.com.